It's been more than a year since the Inflation Reduction Act passed, and the extreme weather this summer underscored that the stakes for our planet have never been higher. Innovative climate solutions are entering the spotlight, but deploying those key technologies requires resources. One crucial and coveted piece of the climate capital stack is non-dilutive capital that doesn't have to be paid back: grants.
While the upside is obvious, navigating funding applications can be confusing. That's why we teamed up with Climate Tech VC (CTVC) to unravel the complexities of accessing non-dilutive government funding in the U.S. Here, we'll walk you through the essential steps to prep your climate technology startup for the competitive government grant process.
It's more than just the IRA
Though the IRA has gotten much of the attention, the US federal government has passed—count 'em!—three climate policy packages since 2021.
🦴 BIL "the backbone": The Infrastructure Investment and Jobs Act (IIJA), aka Bipartisan Infrastructure Law (BIL), was signed into law in November 2021, and is the "backbone," providing much of the infrastructure these technologies need to scale at speed.
What it covers: Investments in clean energy, broadband, rail, and public transit. The bill's funding creates and expands nearly 400 programs, emphasizing equity benefits and the commercialization of innovations.
Total funding: $1.2T over five years, with $550B going toward new investments and the rest toward existing grant programs
Funding mechanisms: Competitive grants, formula funding, federal tax credits, federal loans
More info: Database of programs here
🧠 CHIPS "the brains": The Creating Helpful Incentives to Produce Semiconductors (CHIPS) and Science Act was signed into law in August 2022, and is the "brains," steering billions into cutting-edge research and development needed to accelerate innovation across the economy, including in climate.
What it covers: Boosting US semiconductor manufacturing capacity, catalyzing R&D, establishing regional high-tech hubs, and creating a more inclusive STEM workforce.
Total funding: $280B through FY2027
Funding mechanisms: STEM, R&D, workforce and economic development program authorizations at NSF, US DOE, US Dept of Commerce; federal tax credits; federal loans
More info: Summary of climate provisions here
🚂 IRA "the engine": The Inflation Reduction Act (IRA), which provides billions in grants and tax credits to support carbon mitigation, was signed in August 2022. It's the "engine," due to demand-pull measures that provide the security for these technologies to reach market maturity.
What it covers: Domestic energy production and manufacturing, reducing energy costs, slashing carbon emissions by roughly 40% by 2030, and accelerating the uptake of deployed technologies.
Total funding: $396B through FY2032
Funding mechanisms: Federal tax credits, competitive grants, federal loans, Greenhouse Gas Reduction Fund (via state and local green banks)
More info: IRA Guidebook here
Government funding 101
Grants are awarded by a range of sources, from entities at the state and city level to federal agencies. Government grants tend to be larger than philanthropic grants and can provide credibility and validation to the companies that win them. They can also support new partnerships between startups, the public sector, and community leaders and organizations. The catch? They often have detailed (sometimes onerous) reporting requirements and can come with restrictions on how the money can be used (e.g., Buy America Build America or prevailing wage rules).
For those who haven't navigated the government grants process before, here's a quick cheat sheet of essential federal funding lingo.
Discretionary grants: These grants are funded through tax-payer dollars and while they do not need to be repaid, they require achievement of specific milestones and outcomes to receive the full amount of funding. Most often issued through a competitive application process that is open to all eligible parties.
Eligibility requirements: The qualifications that must be met to be eligible for government funding opportunities. Generally listed on each funding opportunity announcement and vary based on the funding opportunity.
Funding Announcement: Alternately referred to as a Funding Opportunity Announcement (FOA) or a Notice of Funding Opportunity (NOFO), a funding announcement is a publicly available document in which a federal agency makes known its intentions to award funds. FOAs/NOFOs outline the program goals and objectives and provide information to help prospective applicants to determine whether to apply. Agencies often release a Request for Information (RFI) for new grant programs before the NOFO/FOA.
Granting agency: The government agency that manages the application process and distributes the funding.
Justice 40: J40 requires that 40% of all federal climate and clean energy investments benefit underserved communities. In some cases, agencies are rolling out new programs to meet J40 requirements. In other cases, agencies are including equity as part of the score for selecting winning grant proposals. Equity benefits can be 15-20% of the total score for certain grants.
Teaming arrangements: Requirements or recommendations about team composition as part of a grant process. May include recommendations for partnerships with community-based organizations (CBOs), national laboratories, clean cities coalitions or other similar groups.
Step-by-step: How it works
Government funding opportunities typically follow similar timelines that allow both the applicants and the granting agencies to ask questions along the way. The information gathered during this process shapes the requirements laid out by the government for successful applications.
Company registers in SAM.gov: The first step in applying for government grants is registering for a Unique Entity ID (UEI) on the website SAM.gov. While the process is relatively straightforward, it can take over a month to complete! Find a checklist of required documents here.
Agency releases RFI: Agencies will often release a request for information (RFI) for new grant programs to gain information about available technologies and approaches in order to help them to structure the funding opportunity (NOFO or FOA). Responding to an RFI can influence the funding announcement, including eligible project types and funding criteria.
Agency releases NOFO or FOA: The funding announcement will outline the grant objectives, eligibility (e.g., who can be the lead and which types of projects they're looking for), teaming arrangements, and reporting requirements. It also will include an outline for the narrative proposal and templates for supportive materials such as budgets, logic models, letters of commitment, and team bios.
Agency holds info sessions: Granting agencies typically hold webinars detailing the funding opportunity and provide contact information where applicants can direct questions. The granting agency also will release at least one set of FAQs collating questions received from applicants. Note that outside the designated contact, most agency representatives are not allowed to communicate directly with applicants about the grant after a funding opportunity is released.
NOFO or FOA submitted: Funding applications are typically due about six to 12 weeks after the notice is released. Review and announcement timelines vary from program to program and can take two to six months. In some instances, the review stage of an application will provide a preliminary summary of reviewers' feedback to companies and offer an opportunity to respond with additional information to clarify or expand on the application.
Notification of outcomes: Winning applicants will be contacted privately to work out terms and sign a contract before a public announcement. Winning applicants should develop a communications strategy to promote the announcement. While some agencies will alert applicants that were not selected, others may not. Companies not selected should request feedback from the granting agency and use this to plan for future applications.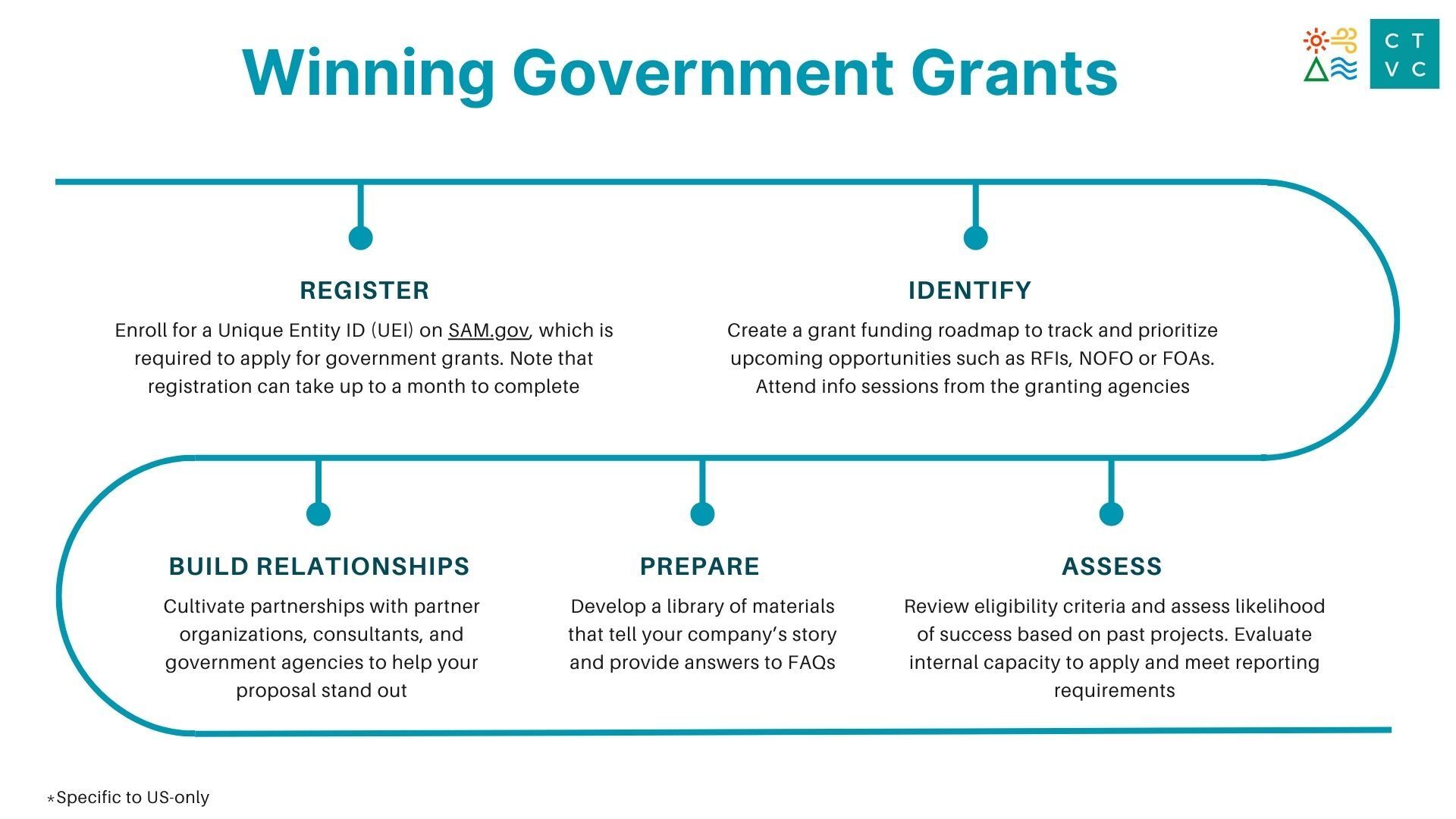 Decision time: Pick the right dollars to go after
While there's a historic amount of government funding becoming available for climate technology, that doesn't mean every opportunity is right for your company. It's important to triple check eligibility requirements and then narrow down grant options to those most aligned with your organization—otherwise you could waste valuable time and resources chasing federal dollars that are unlikely to materialize.
Review eligibility criteria: Climate technology companies should ensure the project they're looking to fund fits within the agency's list of eligible projects. If it is unclear from the funding announcement, companies should reach out to the agency contact (emails will be listed on the funding announcement). Next, they should ensure they can apply as a prime grantee or partner with a group that is eligible to be the prime applicant. Finally, they should ensure they have the right partners in place to meet or exceed teaming arrangements and J40 priorities to make their application competitive. For example, many DOE grants require "letters of commitment" from community-based nonprofit organizations. Developing partnerships to secure such a letter can take many months.
Assess the likelihood of success: Companies should assess their likelihood of success before investing time and resources to develop a grant application. Companies should start by familiarizing themselves with past projects that were funded under the grant program, and assess how their program compares with past project types, geographies and teams. Companies have reported that success rates seem to be helped when (i) they have a preexisting relationship with the granting agency, so they understand the agency's priorities and (ii) they have provided feedback through RFI processes to help inform the funding announcement.
Assess internal capacity: Before applying, companies should carefully consider their capacity to develop a grant application and meet reporting requirements, should they win. Developing a narrative proposal and supplemental materials can take several weeks, which may distract from other urgent priorities. Companies should ensure they have someone on staff to project manage the proposal and people to contribute to writing the narrative, formulating the budget, collecting letters of commitment and developing logic models or other supplemental materials. Outside consultants can be helpful, but they will be most helpful if the company has an established relationship in advance of the application process and internal capacity to help manage and support those consultants to develop materials.
🤔 Additional questions to consider

1. Is this a good fit for your organization's mission?
2. Does the funding opportunity align with your technology roadmap?
3. Can funding be used to support a product/project that was already a high priority? If yes, great. If not, how will it shift the company's roadmap, and is that OK?
4. Is there a cost-sharing requirement? Are you prepared to meet it, or would you have to find new matching funding?
5. Beyond the money, what would be the benefits of winning this grant?
6. Does utilizing this money come with any restrictions (strings attached)?
7. Have you laid the groundwork necessary to succeed? Do you have existing relationships with the granting agency? Can you "read between the lines" to understand agency motivations and priorities?
8. Do you have the capacity to write a strong proposal, execute on what you've proposed and meet reporting requirements?
Measure twice, submit once
To maximize your chances of success, your team should begin preparing to respond to government grant opportunities long before a funding opportunity is announced. For example, the IRA identified priorities for a variety of new funding programs, but these were debated and iterated upon for months before funding announcements were released. Companies who responded to RFIs and developed relationships with the agency, implementation partners, and other key stakeholders in the intervening months may have helped shape specifics—and built partnerships to make their proposals stand out.
Create a grant funding roadmap to prioritize opportunities
A funding roadmap will help your company identify funding opportunities, prioritize the best fit, and develop a program and partnership strategy to increase your chances of success.
A roadmap should identify eligible grants and deadlines and outline an engagement strategy for preparing to apply. For example, many grants now require or encourage partnerships with community-based nonprofit organizations that take time to cultivate. The roadmap can help make sure you're prepared when new opportunities arise.
Build relationships with partner organizations
Many grants have "teaming requirements" that encourage partnerships between private, public, and nonprofit organizations. J40 requirements, such as forming community benefit agreements or plans, also give additional points to project teams with meaningful representation from local community organizations.
These partnerships take time to cultivate and should be invested far before a funding announcement is released. Recent experience has shown that those applications that provide coherent and effective strategies to ensure community impact are more well-positioned.
Build relationships with consultants who can provide swing capacity
Grant consultants can provide essential swing capacity to support your team in project managing and crafting a narrative for your grant application. These consultants can often advise on your grant strategy and help compile and organize content in advance. (AI-enabled tools like Streamline Climate or Pioneer Climate could also be helpful resources in developing proposals for teams that may not have the budget to hire a consultant.)
Consulting arrangements work best when relationships are established before a funding opportunity is announced. Look for consultants with relevant technical expertise and experience winning grants from the agency you plan to apply to (e.g. Climate Finance Solutions, Boundary Stone Partners).
Build relationships with government agencies
Building relationships with government agencies will help your company understand the agency's priorities, approach and terminology, helping you to read between the lines and emphasize the right things within your grant narrative.
Putting pen to paper: Develop a strong proposal
While it can be tempting to structure your narrative to match your pitch deck, remember that a government audience differs greatly from a VC. The scoring rubric is followed closely, so it is important to answer the questions directly to receive full points. Your best bet is to use the suggested headings verbatim and, in your answer, to repeat the terminology used in the question description. Be sure to save time for reviewers to check your answers against the scoring rubric.
Letters of commitment
Many grant applications require letters of commitment from partner organizations. These letters express the organization's commitment to supporting the proposed program, and outline their role in ensuring its success. The best letters include examples of how the organizations have partnered together previously. Letters of commitment take time to secure, and companies should begin forming these relationships well before a grant funding program opens.
Companies should also request letters from federal elected officials representing the district where a project occurs. A warm introduction to a staffer is the best route, but absent that, you can request a meeting on the elected's website to brief their team on your project and request a letter.
Resources to support proposal development
| | | |
| --- | --- | --- |
| Gov Guidance | | Government Grants 101 resources from the Grants.gov website |
| Gov Guidance (EPA) | | EPA's resources for applying for a government grant |
The main event: Funding opportunities
IRA and IIJA added additional funds to existing federal funding programs and created new funding opportunities. [
Check out CTVC's
Founder's Guide to the DOE
 for a full run-down of ongoing grant opportunities.
] While not a comprehensive list, the below programs created or expanded by one of these three bills in the US may be of particular interest to climate technology companies.
The Qualifying Advanced Energy Project Credit (48C) [IRS+ DOE; ongoing program] Originally launched in 2009, 48C was expanded with a $10B investment under the Inflation Reduction Act. The Advanced Energy Project Credit provides a tax credit of up to 30% for investments in advanced energy projects. The latest round of applications closed in August 2023, but companies can look out for future opportunities and find more information, HERE.
ARPA-I [DOT; expected launch in 2023] Authorized by IIJA and sitting within the DOT, ARPA-I will fund the development of innovative technologies, systems  and capabilities to transform America's physical and digital infrastructure. It's expected ARPA-I will operate similarly to ARPA-E, periodically releasing FOAs that climate technology companies can apply to. For more information, check the ARPA-I website.
Clean Energy Infrastructure Funding [DOE; grants ongoing] With more than $97B in investments through the Bipartisan Infrastructure Law and the Inflation Reduction Act, the DOE Clean Energy Infrastructure program is focused on the rapid commercialization, demonstration and deployment of clean energy technologies. Explore open FOAs HERE and subscribe to the newsletter HERE.
Climate Resilience Accelerator [NOAA] This new $60M IRA-supported funding opportunity seeks to fund accelerator groups that will, in turn, provide grants to businesses navigating commercialization pathways for ocean-based climate resilience solutions to help communities build resilience to climate challenges. The goal is to support the development of innovative early to mid-stage businesses with training, resources, mentorship, and seed funding, with the ultimate aim of bringing products to market. Explore more HERE, and view the FOA HERE.
Consumer Electronics Battery Recycling, Reprocessing, and Battery Collection Funding.  [DOE, annual] DOE's $125M funding opportunity is part of the $7B authorized by the Bipartisan Infrastructure Law to grow and secure America's battery supply chain. Eligible projects include the technologies that improve the economics of recycling consumer electronics batteries, and those that support and incentivize collection. Climate technology companies can be the prime applicant, but multi-disciplinary teams are encouraged. For more information, go HERE.
Energy Efficiency and Renewable Energy (EERE) Grants [DOE; grants ongoing] The EERE program releases FOAs covering transportation, energy, water and buildings. Project selections are competitive and merit-based, with funding criteria based on potential energy, environmental and economic benefits. Explore open FOAs and subscribe to the newsletter HERE.
SBIR Grants EPA (annual program; expected to re-open Q2 2024)  As part of the Small Business Innovation Research (SBIR) program, the U.S. Environmental Protection Agency releases annual requests for proposals from small businesses to develop environmental technologies in topic areas identified as priorities. Check in on the latest program priorities (HERE) and subscribe to the newsletter (HERE) to be alerted when new funding opportunities go live.
SBIR Grants DOE (annual; applications for FY24 due Oct. 10, 2023) The Department of Energy's SBIR Program releases FOAs for areas of interest to the DOE. The DOE's SBIR has three phases: Phase I explores feasibility, providing awards up to $250,000. Phase II awards up to $1,600,000 over 2 years. And phase III may award non-competitive, follow-on grants or contracts for products or processes. Explore current priorities (HERE) and subscribe to the newsletter HERE.
Vehicle Technology Office (VTO) Program-Wide FOA (annual; expected to re-open Q2 2024) The VTO FOA provides funding to advance research, development, demonstration and deployment in several areas critical to achieving net-zero greenhouse gas emissions by 2050. Focus areas are updated annually and cover reduction of weight and cost of batteries, reduction in life cycle emissions of advanced lightweight materials, reduced costs and advanced technologies for both on- and off-road vehicle charging and infrastructure, innovative public transit solutions, and training to increase deployment of these technologies among diverse communities. For more information, go HERE.
Greenhouse Gas Reduction Fund (GGRF) [EPA] The GGRF is a $27B dollar fund that prioritizes funding projects in historically underserved communities through three program areas:
The $14B National Clean Investment Fund (NCIF) competition will provide grants to 2–3 nonprofits that will administer financing for tens of thousands of clean technology projects across the country.
The $6B Clean Communities Investment Accelerator (CCIA) competition will provide grants to 2–7 nonprofits that will, in turn, deliver funding and technical assistance to build the clean financing capacity of local community lenders working in low-income and disadvantaged communities.
The $7B Solar for All (SfA) competition will award up to 60 grants to states, territories, Tribal governments, municipalities and eligible nonprofits to expand the number of low-income and disadvantaged communities primed for distributed solar investment.
The GGRF applications are currently open, with SfA applications due in late September, and CCIA and NCIF applications due in October. Climate technology companies interested in this funding should first ensure they are developing meaningful partnerships with community benefit nonprofit organizations to co-create projects. Next, companies should keep an eye on who wins the funding and establish relationships with those groups. It is expected that subgrants and financing will begin to be distributed in late Spring or early Summer 2024.
Additional Resources
This summary acts as a starting point, but other trackers and databases are keeping tabs on the details of different funding opportunities. Find more info on tax credits, J40, and grant programs below
| | | |
| --- | --- | --- |
| IRA Summary | | Overview of climate and energy provisions in the IRA, developed by Bipartisan Policy Center |
| IIJA/BIL Summary | | Key provisions in the IRA, sortable by agency. Developed by BlueGreen Alliance |
| GHG Reduction Fund | | Details announced July 2023 outlining grant priorities for the $27B GHG Reduction Fund |
| Funding Database | | Clean Energy Business Network (CEBN) maintains a database of private and public funding opportunities in the clean energy space |
| Funding Database | | Wilson Sonsini's Clean Energy and Climate Solutions Federal Funding Database |
| Gov Guidance (J40) | | Climate and Economic Justice Screening Tool to help identify communities prioritized for J40 support |
| Tool (J40) | | DOE's Energy Justice Tracker, for tracking DOE progress toward 40% of investments in frontline and overburdened communities |
| Tool (J40) | | Harvard's environmental justice tracker, including links/analysis of how each agency is addressing environmental justice |
•     •     •
This article was originally published as "A founder's guide to winning non-dilutive funding with Elemental Excelerator" in Climate Tech VC.